By admin
I wrote about Student Gems a few weeks ago, a site aimed at students in the UK who want to provide services on a freelance basis to employers. I make a living like this (through writing, blogging, some website work and some childminding), and it definitely beats "traditional" student jobs like stacking shelves.
If you live in the US, though, you might want to check out Student Freelance, which works in a similar way. Here's the run-down…
Getting Started with Student Freelance
I liked this quote from the registration screen, as it chimes nicely with my own focus on "ventures" (closely linked in my mind to "adventures") and conveys a great a sense of excitement about starting something new.
User registration is where your new venture begins with our interactive marketplace. Please take a moment to fill in the required information.
Unfortunately, though registration looks nice and straightforward, I was told I couldn't because I'm not at a university in the US. The site uses the domain part of your email (I tried with my Goldsmiths' account which ends ".gold.ac.uk") to check whether you're a legitimate US student. If you can't register, text appears to prompt you to contact the site administrators to have your school added.
Registration looked straighforward, however – just a matter of creating a user account (as you would on any website).
Rather to my bemusement, my account registration did seem to have partially gone through; I saw text at the top of the screen saying "Good Morning, aliventures – You are Logged-in"
(aliventures was my chosen username).
Searching for work on Student Freelance
My first search (amongst "service auctions" which are the job listings) was for "writing" and came up with 0 results, which was a bit disappointing – I found some matches when I tried a similar search on Student Gems.
In fact, there only appeared to be two jobs listed on the entire site: when I ran a blank search I got this: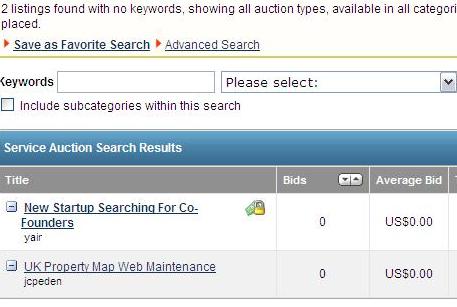 And when I clicked through to look at the details on the first project, I found it had been posted back on 15th September (it's 23rd November at the time of writing this).
Portfolio listings on Student Freelance
The site did seem much better populated when I clicked on the "Portfolios" tab at the top of the page. It may be the case that, like with Student Gems, many employers using Student Freelance prefer to contact individuals directly rather than posting their job on the site. Even so, there were only 45 portfolios in total – and several users had multiple portfolios (for different projects, as far as I could tell).
At this stage, it appeared that I definitely wasn't logged in as I couldn't view the details of portfolios, which were available to "subscribers only"…
Overall impression of Student Freelance
It looks like Student Freelance is a new, and badly underused, site. I couldn't see much potential for finding work through it – though it might be worth signing up, if you are in the US, in case the site does take off in future.
I'd personally recommend using Student Gems instead (which is also a relatively new site where you have a good chance of getting noticed, but with definitely active employers). If you're in the US, many employers may be happy to use you for jobs which can be done remotely. Much of my own freelance writing is for US individuals and companies, and I get paid in dollars via Paypal – it works just fine.