By admin
Category:
Fun
|
Date:
Sun 05 Oct, 2008
I'm a firm believer in taking regular breaks whilst working. It helps you stay productive and focussed, prevents you going crazy, and allows a bit of an opportunity to fit some fun around your studying …
Here are a few ten-minute-or-less activities to try out in those gaps between finishing one chunk of work and starting the next:
Online fun
Watch YouTube clips
That favoured procrastination activity of many students, watching YouTube videos is a great way to break the study-gloom mood. Just make sure you really are limiting yourself to ten minutes (it's all too easy to be lured into those "Related clips" and then into the comments section…)
It's not exactly hard to find short, funny clips – you probably have friends emailing you their favourites – but if you're stuck on where to start, try:
Twitter to your friends
If you're not on Twitter yet, get an account today! It seems set to be the new Facebook, with more and more students Tweeting about their lives, thoughts and looming essay deadlines.
It's described as a "micro-blogging" service, which means you enter a text-message length update which everyone "following" you sees. You can also send "replies" to particular people, or direct (private) messages.
Why not follow Alpha Student on Twitter? We regularly put up links to and comments on student-related news, and alert you to new posts here on the blog.
It only takes a minute to send a Twitter update; so get all your friends on board, and spend your ten minute study breaks catching up with what everyone else is doing… (and be prepared for their lives not to be as exciting as they make out!)
Read blogs
Most blog articles are short and snappy – and lots are good fun to read. Alpha Student is a great place to start, of course 😉 and the blogs listed in our address book are also great reads. If you're just after laughs, though, without any thinking required, check out some of these daft, fun and oddly compelling blogs:
I Can Has Cheezburger – if you've not heard of LOLcats before, where have you been for the last year they're pictures of cats with funny captions in "LOL speak" – a cross between online language and baby chat conventions.
Daily Snopes – possibly not technically a blog, but updated every day with weird and wacky news stories.
Passive Aggressive Notes – some of these stories of woe (stolen food, anyone?) are all too familiar from my undergrad days.
Offline fun
Doodle
Whether or not you can draw, spending ten minutes doodling is a great way to switch off and have a bit of fun between study sessions. Grab some scrap paper and a biro (bonus points for coloured pens) and squiggle away. Just like our RSS logo…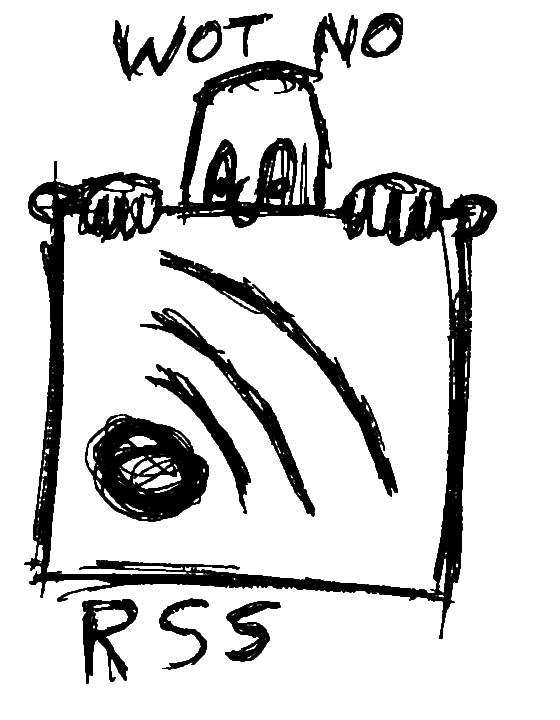 (click and get fed!)
Some artistic post their doodles on Flickr; others consign them to the bin. Just try not to doodle on any assignments that you'll be handing in … (My mum's friend once had to turn in a thesis with horses drawn in the margin, though this was in the days before printing out a second copy was quite so easy…).
You can learn more than you ever needed to know about the history of doodling on Wikipedia…
Write poetry
Ten minutes probably isn't long enough to compose a ballad, but you could have a go at a haiku or a limerick. If you're fed up with studying, write a poem about that. Invent limericks for all your friends (or all your enemies, depending on whether you favour "humourous" or "satirical".)
If you're having trouble getting started, a famous first line for limericks – and one which allows for some X-rated rhymes – is "There once was a man from Nantucket". The "There once was" is the most common starting formula.
Haikus tend to be a bit more profound, and I found these computer-related ones brilliant. Why not invent your own based on technological woes?
Over to you
Have a ten minute break now! Check out some of the further reading if you're in a serious mood, or just have some fun …
Further reading:
Got a great YouTube clip to link us to, or a haiku or limerick to share? Let us know in the comments…